I've mainly been working on my GB Socks Away KAL socks for the past few weeks. I'm making my own design, Falling Petals, in Eden Cottage BFL Sock. It's going well so far and I'm almost ready to start the toe. I really like the colour of the yarn, a greyish dusky pink called Antique Rose, although it seems to come out too blue when I take photos.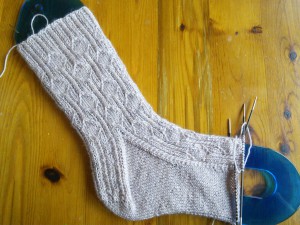 I'm hoping to get this published sometime vaguely soon. Joeli is running a Designer Bootcamp, to help people who want to self publish but need some extra support and motivation, which I'm really enjoying. She's giving lots of great advice, and the bootcamp is really flexible, e.g. I'm skipping the suggested stitch pattern as I have several designs I want to try and get sorted. It's managing to keep things the right side of stretching me without pushing me too far, so I'm quite positive that this might be what I need to stop prevaricating and get things done.
I've also been working on my Mahy shawl in Nude Ewe Wes. After getting half way through Chart B I realised that the central spine of decreases was in the wrong place for half of the repeats – I had 2 eyelets one side of the centre and 4 the other. Ripping back about 20 rows of lace ensued, after retroactively inserting a lifeline. This wasn't too painful, if time consuming, although it took a while to work out which was the right side after I had removed the marker in the ripped section, the problem with garter stitch shawls as I am rapidly discovering.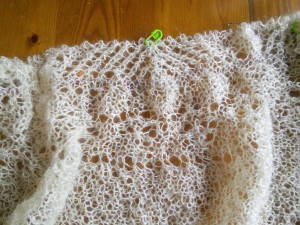 I'm almost back to where I was before, with the help of plenty of stitch markers. I've decided to use lockable stitch markers to mark a stitch, rather than the space between stitches, as normal stitch markers easily get lost on the wrong side of a yarn over and can cause problems by getting in the way of decreases. So far it seems to be working and hopefully I will soon be seeing what pitfalls lay ahead in Chart C.